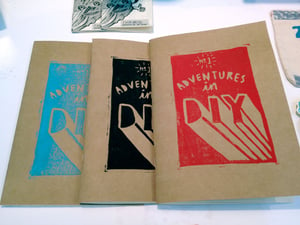 $

5.00 - On Sale
This is the first of a 4-part zine series containing useful how-tos, stories, comics, and other cool things related to the do-it-yourself lifestyle. This issue comes with free a mini zine.
Each copy has a cover that was lovingly hand printed using linocut on recycled paper.
Individually numbered edition of 100.
Size: A5 (210x148mm)
Material: Recycled kraft paper cover, copy paper interior
Pages: 36pp
Binding: Saddle stitch bind
*Free shipping within Singapore!
For more images click here:
ADVENTURES IN DIY #1
Free shipping within Singapore!